In 2009, Mr. Benjamin W. Lindsey and son Benjamin W. Lindsey Jr. acquired the Bank of Lenox and changed the name of the bank to THE TRUST BANK. Mr. Benjamin W. Lindsey became Chairman of Board and director of the bank. Benjamin W. Lindsey Jr. became
the Secretary of the bank and director. The bank was founded in 1906 and contributed greatly to the economic well being of South Georgia. THE TRUST BANK will continue to be Cook County's ONLY HOME TOWN BANK.
In 1906 J.D. Robinson founded the Bank of Lenox and soon acquired a reputation for safe and conservative banking. His son Roby H. Robinson Sr. became president upon his father's death in 1941 and continued the reputation of sound banking principle.
Roby Robinson's sons, R.H. Robinson Jr. and Warren D. Robinson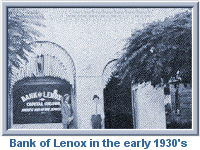 continued the banking tradition. In 1972, Warren D. Robinson became president upon the death of their father.
How can we help you?